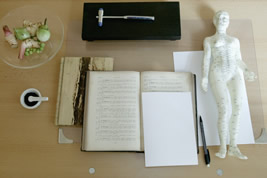 Medical Acupuncture is the synthesis of Western Medical Science with Traditional Chinese Medicine practices. Traditional Chinese medicine, which developed the practice of acupuncture, was an ancient system that recognized that disease was due to imbalances in the flow of Qi (pronounced "chee") that moves through everyone. Click here to check out the new study on menopause and acupuncture as seen on ABC NEWS.
Disruptions of Qi or "life energy" were recognized to be related to stress, poor diet, fatigue, and excessive heat or cold. By evaluating the physical appearance of the patient, the symptoms, time of the year, color of the tongue, and quality of the pulse, traditional acupuncturists inserted "hair-thin" needles into acupuncture "points", located throughout the body, to balance the Qi and restore health.
Medical Acupuncture, as practiced by M.D. or D.O., has expanded on the traditional system by incorporating modern medical research into acupuncture practice. The result to date has been the validation of over 40 conditions, now recognized by the World Health Organization (WHO), for which acupuncture may be beneficial.
Those conditions include abdominal pain, addiction control, anxiety, arthritis, back pain, chronic fatigue, depression, fibromyalgia, migraine, hypertension, infertility, insomnia, menopausal symptoms, nausea, sciatica, smoking cessation, tinnitus and many others.
The result of this collaboration of East and West has been the development of Electro-Acupuncture, Battlefield Acupuncture, Osteo-Puncture, and Acupuncture Energetics (developed by Joseph Helm, M.D., UCLA School of Medicine). There continues to be ongoing research in Medical Acupuncture (Journal of Medical Acupuncture).
For more information, click here to visit the National Institutes of Health website concerning the positive effects of medical acupuncture.
For more information on acupuncture, check out the National Institutes of Health website.
Check out the latest news from WVU School of Medicine.
Request Your Appointment Today!
To schedule your appointment with the top medical acupuncturist in Jeannette, PA, please call ☎ (724) 523-5505 or contact us online today!
---
Our Location
Medical Wellness Associates, PC
6402 State Route 30
Jeannette, PA 15644
Phone: (724) 523-5505